Field study environments (within 1 hour of centres):
Blencathra, Cumbria
Physical
Mountainous upland environment
Fluvial systems
Post-glacial landscape
Human
World Heritage Location and in a National Park. Students can investigate impacts of tourism, management of rural settlements as well as accessing Britain's 'energy coastline' (e.g. coal, nuclear, wind, biofuel case study locations)
Castle Head, Cumbria
Physical
Sand dunes
Coastal landscapes
Glacial landscapes
Freshwater rivers
Human
Rural (Staverley, Grange over sands, Lindale) and Urban settlements (Morecambe, Barrow, Lancaster)
Dale Fort, Pembrokeshire
Physical
Coastal Processes and Coastal Management at Saundersfoot Bay and at St Brides Bay
Renewable and fossil-fuel energy production and industries at Valero Oil Refinery, Pembroke Gas-Powered Power Station, Dragon LNG Storage Terminals
Wind turbines
Tidal Turbine at St Justinian's
River Processes and Flood Management – Preseli Hills, Haverfordwest, Afon Syfynwy and River Cleddau
Human
Tourism and rural development – Pembrokeshire Coast National Park, St. David's, Tenby
Ecotourism – Skomer Island MNR/NNR, Ramsey Island
Flatford Mill, Suffolk
Physical
Famous textbook coastal site at Walton on the Naze (Coastal processes, cliff slumping, erosion, management, etc)
River Brett for downstream change
Shingle ridge and salt marsh
Human
Ipswich Docks regeneration
Rural villages within walking distance
Tourism studies in rural and rural coastal sites
Millport, Isle of Cumbrae
Physical
Coast sites (coastal process and management)
Nearby mainland sites, freshwater river and sand dunes
Brown earth soil site on the island
Water and carbon cycle
Human
Millport town (popular Victorian seaside resort)
Nearby mainland town of Largs, Glasow (approx. 1 hour)
Tourism, place and urban studies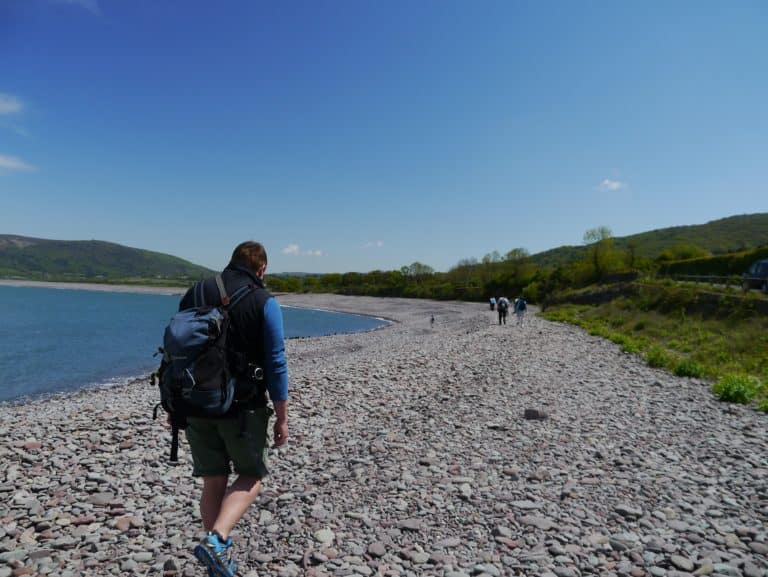 Nettlecombe Court, Somerset
Physical
Porlock Bay – Shingle ridge and salt marsh. Has become a key area of research in managed retreat, formation of Salt Marsh, impact on or from human activity.
Nettlecombe Estate has been a site of a recent Hydrological monitoring programme by the Env Agency and the Wildfowl and Wetland Trust. Its rivers and stream and ponds have all had gauging equipment on them for the last two years. Woody dams were installed in the upper course. Great potential for future study.
Human
Taunton – Urban studies and 'Project Taunton' regeneration
Rural settlements
Preston Montford, Shropshire
Physical
Carbon Studies – on site woodland, Nesscliffe Country Park, Carding Mill Valley
Hydrology and River studies – Carding Mill Valley. Succession – Crosemere
Peri-glacial Landscapes – on site
Human
Urban studies in Shrewsbury, Telford, Iron Bridge
Counter-urbanisation in Bicton
Rural settlements in Pontesbury, Church Stretton
Rhyd-y-creuau, Snowdonia
Physical
Coasts at Criccieth
Rivers Afon Conwy or Afon Peris
Flooding and hyrology in the centre grounds and Llanrwst
Upland glacial landscapes at Cwm Idwal and the Ogwen valley
Lowland glacial landscapes at Aber Ogwen. Carbon studies on site and at Migemint moor
Human
Tourism in the post glacial uplands in Cwm Idwal
Changing rural settlements in Betws y coed and Penmachno
Economic change and rebranding in Llanberis
Urban studies in Llandudno
Energy in Snowdonia
Slapton Ley, Devon
Physical
Coastal sites (exposed and sheltered shores, vegetated shingle, cliffs)
Farmland
Dartmoor National Park
NNR habitats
River Harbourne, Lemon or Gara
Human
Rural settlements
Tourism in Dartmouth, Torquay or Dartmoor
London sites
Human
QEOP / Kings Cross: Regeneration, Urban Development and Design, Planning
Brick Lane: Population studies