In February we delivered five exciting sessions to connect children with nature and learn along the way. The great news is that we recorded these lessons so they are still available to watch by following the links below!
Live lesson schedule:
Tune in for a fun and informative session featuring activities to do on a family walk in the woods. We will be joining our team at FSC Flatford mill in Suffolk and will be learning how to identify trees, and figure out their height and age in a fun way, as well as the game 'meet a tree', and an immersive 'sit spot' activity too. Can't get out to a woodland? Don't worry, there's an activity for you as well– we'll show you how to create your own piece of natural art!
Join us at FSC Juniper Hall in Surrey for an exciting lesson all about garden birds. This session will help you identify key characteristics of our most common garden birds and help you work out which one is which. Come prepared to get messy as you will have an opportunity to create your very own bird feeder. Don't worry if you don't have a garden of your own, as you can still take part in all the activities.
Come check out what lives in our ponds at FSC Preston Montford in Shopshire. You will learn the best way to pond dip yourself and how to identify pond life. No pond nearby? Don't worry we will show you how to make your own mini pond to attract wildlife to your outside space.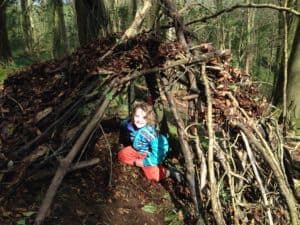 For this episode we will be joining our team at FSC Rhyd-y-Creuau – our centre in North Wales. Have you ever wanted to build your own shelter? We will show you where to start as well as how to catch creepy crawlies in your garden.

For our final lesson come and see us at FSC Slapton Ley centre in Devon. We have more fun activities for your family walks – this time we'll be making smelly potions, playing a colour match game, and learning about natural camouflage. We'll also be looking out for signs of Spring – looking back to episode 1 for comparison. If you can't get out to the woods, we'll be showing you how to make a frozen decoration to hang outside with some natural materials.
Donate today to help young people

Help us to do more by supporting us. Every £ donated to us will be used to provide financial support for young people to learn more about the natural world through an FSC experience.We expect more schools to need support following the pandemic and want to be able to help as many pupils and teachers as possible to access outdoor learning.