A rare opportunity has arisen for people to learn the skillful craft of bookbinding under the expert leadership of one of the UK's most notable bookbinders.
Mark Cockram, who has 40 years' experience in the book-binding profession and is an elected fellow of Designer Bookbinders, has partnered with us to run a five-day residential beginner's course at Flatford Mill in the heart of Constable country from 5th – 9th December 2022
It is one of a few courses to run in the UK which will enable complete novices to learn the traditional skills and techniques of hand binding and comes as more people look to adopt and nurture their creative talents post-pandemic and look for alternative careers.
Mark, owner of Studio 5 Book Arts in London, as well as an elected Brother of the Art Worker's Guild (BAWG) and special researcher for bookbinding design and research at the University of Shanghai Science and Technology, said: "This is a hands-on intensive course and will teach people a variety of skills from paper folding and cutting to sewing techniques and lettering.
"It has been designed for the complete beginner and will provide a platform for anyone wishing to go on and get further tuition and expand their knowledge. The Covid-pandemic has taught us all that there is more to life than the standard nine to five job. In fact, many people are finding that they can have more than one job and those with an interest and love of the book can quite easily make it a part of a new career pathway by starting out on this course."
It will take place over five days at FSC Flatford Mill in East Bergholt, which was once owned and renovated by the Constable family.
Those attending the course will stay near to the mill in the internationally renowned Willy Lotts' House, which was made famous by UK artist John Constable in his 'Haywain' painting.
"Flatford Mill is a beautiful location and is steeped in heritage with a strong link to Constable. This is a wonderful opportunity for people to make their own bound sketchbook in the heart of Constable country and I'm very much looking forward to sharing my passion and skills," added Mark, who on multiple occasions has been selected to create unique bindings for winners of the Booker Prize and whose own work can be found in national and international book collections.
The beginner's bookbinding course, which runs over various dates throughout the year, is just one of several new arts and crafts courses being delivered this year in partnership with expert tutors as part of our efforts to help adults engage and connect with nature.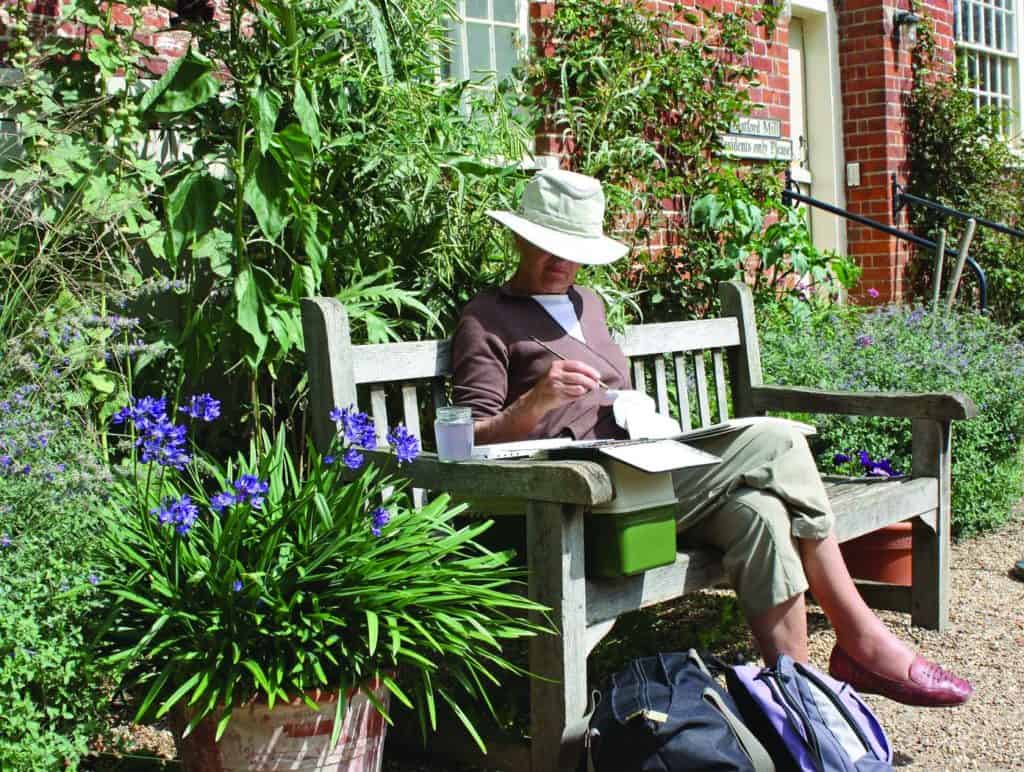 At Flatford Mill people can also have a go at basket weaving, marbled papers, silk scarf painting workshops, jewellery making sessions amongst other crafts, and try their hand at making a stained-glass panel.
Craft courses are also on offer at our other locations including Bishops Wood Field Centre in Worcestershire, Amersham Field Centre in Buckinghamshire and Preston Montford Field Centre in Shropshire.
Claire Madder, leisure course coordinator for FSC said: "We have an exciting and varied programme of residential-based art and craft courses available this summer. The bookbinding for beginners' course is unique and we are delighted to have teamed up with Mark to offer this opportunity to anyone who has a love of books.
"Mark brings a wealth of experience and expertise to this course and will hopefully help pave the way for anyone thinking about a more creative career path."