Gem Simmons, Tutor at Rhyd-y-Creuau
Marine ecosystems occupy over 70% of our planet's biosphere making it the largest biome in the world. In fact, two thirds of the total surface area of planet earth is occupied by our oceans.
We are becoming increasingly aware of, and indeed reliant upon, these highly valuable ecosystems. The marine environment has several fundamental environmental functions including regulating earth's climate, prevention of land erosion, solar energy accumulation and distribution, carbon dioxide absorption, and maintenance of biological controls. Globally, marine conservation management is struggling to keep up with the ever-increasing number of threats facing our oceans which exist on varying spatial and temporal scales, making them difficult to predict, manage and mitigate. We have now reached a critical turning point in time for marine biology and conservation efforts. So, the important question we must answer is…how do we save our seas?
The marine environment offers a range of ecosystem services and are regarded by many to have high intrinsic value. This intrinsic value has become particularly evident following our recovery from the Covid-19 pandemic which has highlighted the importance of outdoor wild spaces to human health and spurred on the 'blue health' movement. Over 68 million people worldwide now live in low-lying coastal zones according to the IPCC placing importance on flooding and coastal zone management. Anthropogenically, the oceans provide us with oxygen, food sources, and for many, employment. Over 57 million jobs globally are provided by the fisheries industry alone, and 15% of animal protein comes directly from seafood making it a highly valued resource. The oceans transport heat from the equator to the poles, regulating our climate and weather patterns, produce over half the world's oxygen and absorb fifty times more carbon dioxide than our atmosphere. Marine organisms play a crucial role in our food and medicine resources and the seas also support important keystone and indicator species of environmental health. Despite the importance of our marine ecosystems, they are currently managed unsustainably on a global scale but it has become evident that a healthy economy relies on healthy, functioning marine ecosystems. Regulating, protecting and understanding our seas is now more important than ever.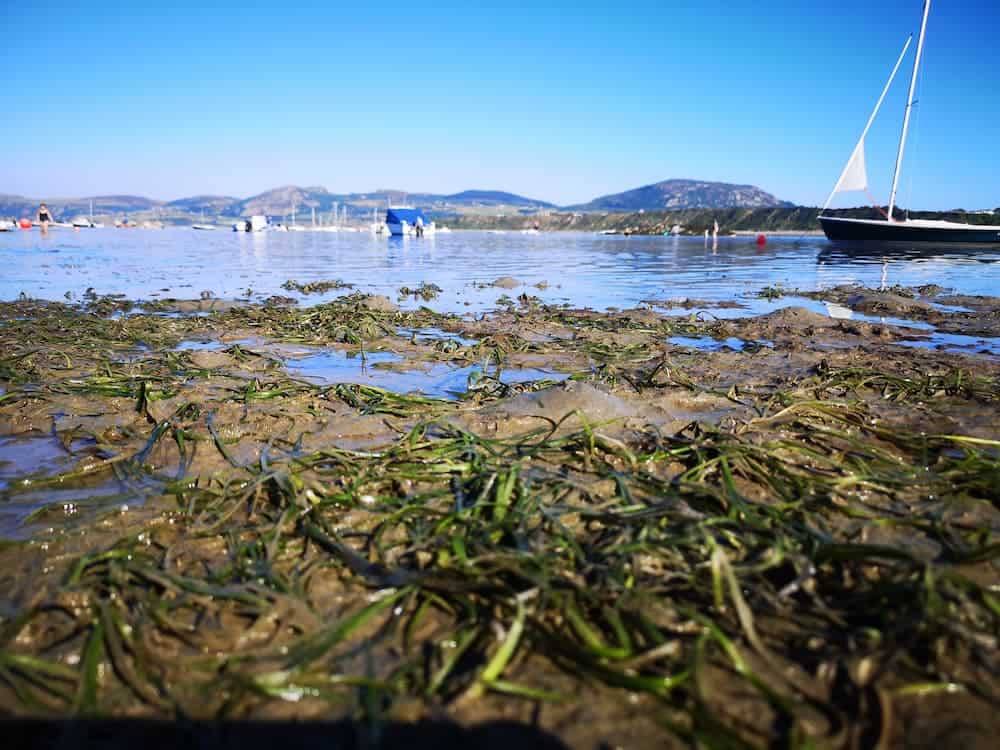 The British Isles provide a range of critical habitats and host a number of globally important species. Marine ecosystems include the open ocean, the deep ocean, and coastal marine ecosystems each serving different biological and physical characteristics and defined by their unique biotic and abiotic factors. Some of the best marine ecosystems in Europe exist right here in the UK and Ireland showcasing a high diversity of species and underwater habitats. Marine ecosystems in the UK encompass estuaries, sand dune systems, the enclosed North Sea, seagrass meadows, offshore reefs, temperate coastal shelf seas, and the open waters of the North Atlantic. Over 40% of the global population of Atlantic Grey Seals inhabit UK waters, the Dorset coast boasts the last remaining stronghold of both endangered native species of seahorse, and British seas offer temporary refuge to a number of globally important migratory and seasonal visitors. The waters of the UK and Ireland also support a rapidly growing renewable energy sector with huge tidal and wave power potential. The UK is now home to the fifth largest offshore windfarm in the world reducing political pressures, reducing reliance on energy imports and leading the country towards a self-sustaining future.
Arguably, the biggest threat facing our marine ecosystems today is pollution. The cumulative effects of noise, chemical, and plastic pollution are having devastating impacts on native and long ranging marine species. Every year, more than a million seabirds and 100,000 marine mammals are killed by plastic debris through ingestion and entanglement. This combined with the emergence of new diseases and infections, such as the recent outbreak of avian influenza in coastal seabird populations, of which some are at least partially attributed to global climate change means that the magnitude of these impacts is something never witnessed before in human history. Physical pollution discarded into our seas has led to the formation of the great pacific garbage patch which is a collection of over 1.8 trillion pieces of discarded plastic weighing in at 80,000 tonnes and covering an area bigger than the state of Texas now permanently floating in the North Pacific Ocean, impacting all who attempt to inhabit and feed in the area. In 2016, a female Orca washed ashore on the Isle of Tiree in Scotland. She was identified as an individual named Lulu who was a member of the West Coast Community – the only resident pod of Orca in Britain and a critically endangered family. Numbers had been dwindling throughout the 1990s leaving less than 8 individuals in the pod. Why they were rarely sighted without any calves was unknown until Lulu's postmortem was carried out by the Scottish Marine Animal Stranding Scheme that shed some light on the pod's condition. They assigned her primary cause of death as entanglement in marine debris, specifically discarded fishing nets known as 'ghost netting'. They discovered she was around 20 years old and had never produced a calf. Most notably they found that she was one of the most contaminated animals ever recorded. Her tissues contained highly concentrated levels of PCBs – more than 100 times the level at which they are known to impact marine mammal health and likely bioaccumulated throughout her short life. These man-made chemicals, once commonly used in manufacturing and popular for their low flammability, were first banned in the 1970s but persist in the environment today. PCBs are known to interfere with the immune and endocrine system of mammals, undoubtedly impacting Lulu's ability to reproduce. Lulu's story served as a stark warning about the state of our seas and highlights the impact that man-made chemicals and the associated pollution is having on the marine environment. Many vulnerable species are now at risk, which in turn puts people's livelihood, jobs, industries and health at risk.
Although the prognosis looks bleak, there is hope. The solutions lie in improved education, research, and policy and planning and this must become the primary focus. Scotland and Wales have become the first UK nations to introduce legislation to ban and tackle the single use plastics problem and the UK government has banned damaging fishing from four marine protected areas. Although currently only 10% of the planets marine areas are protected, over 200 countries signed a landmark deal at the UN Biodiversity Summit to protect 30% of our marine environment by 2030 as well as aiming to restore 30% of degraded coastal waters that are considered important for biodiversity. The UK is home to an amazing array of marine species and supports many important industries. Our British seas and coasts are vital for people and livelihoods and a move towards a more sustainable future will likely halt the rate of degradation we are currently witnessing. The UK has entered a restoration phase paving the way to not just focus on tackling threats but also actively reversing and repairing the anthropogenic damage inflicted on our marine environment.
---
For our University audience, we offer a wide range marine biology trips including marine conservation management and conflicts, and host more specialist marine courses such as fish parasitology and marine microbiology.
We also deliver marine courses for adult learning, and have some fantastic opportunities for young people.