Each natural history course is part of the Biodiversity learning framework covering a certain subject area.
We offer progressive courses across a range of different subject learning frameworks from birds to amphibians to flowering plants or environmental photography to name a few. Every course offered is pitched at a certain level so that you can tailor your learner journey and select a course to suit your ability in that subject and should you wish, you will know which course to pick up next to best build upon your knowledge and understanding.
Take Identification of Spiders as an example; this is an introductory course designed for somebody with no prior knowledge of that subject area. It will whet the appetite and encourage you to take the next steps in your spider learning journey. You may choose to progress through to beginner, intermediate and even advanced courses in specific niche areas for the subject of spiders and go from novice to expert through the learning hub.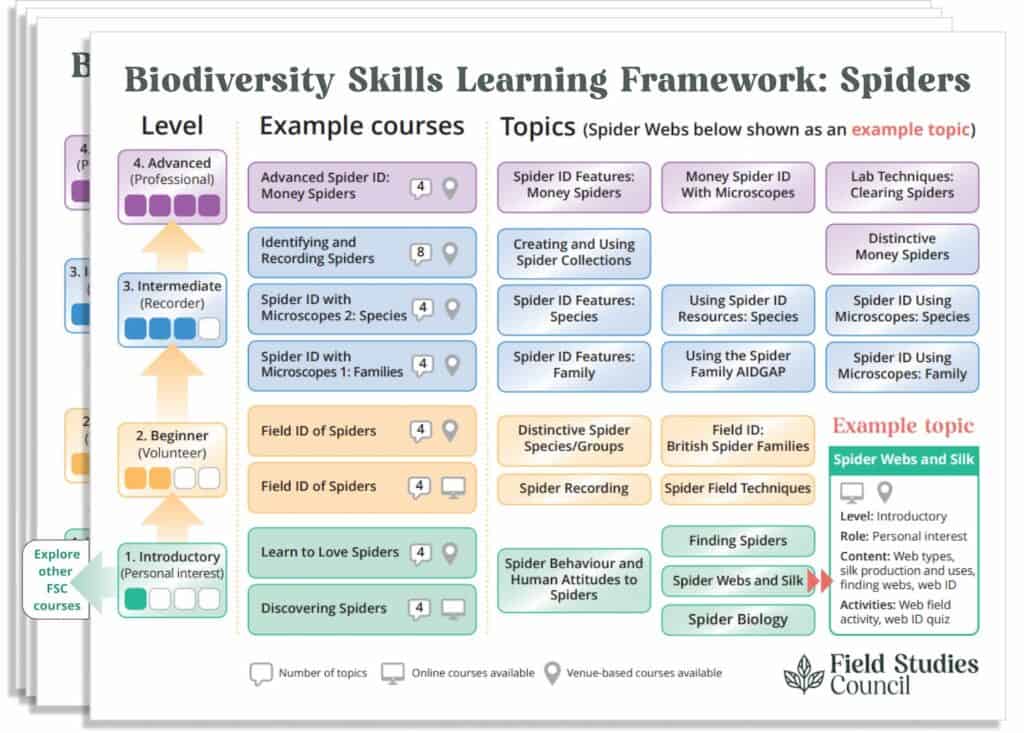 Here is a simple description of the different levels:
Introductory
Courses for those new to the subject who want to take the first step and be inspired.
Beginner
Courses for those who know a little about the subject and want to build a sound foundation of basic knowledge and understanding.
Intermediate
Courses for those who have at least some prior basic knowledge in the subject area and wish to consolidate their knowledge and or skills.
Advanced
Courses for those who have a lot of prior knowledge and or skills in the subject area and wish to hone them towards a specialism.