This beginner course is designed to give ecologists the foundational botanical skills that are essential for accurate habitat surveying using UKHab and NVC. You will learn useful techniques to help you identify key indicator species of different habitats, including wildflowers and grasses. 
This course will include:
An introduction to vegetative and flowering parts of plants.
An introduction to British wildflower families, including common and more unusual species.
An introduction to common British grasses that are key indicator species for habitat surveying.
Practical experience identifying wildflower and grass species in the field with an expert tutor.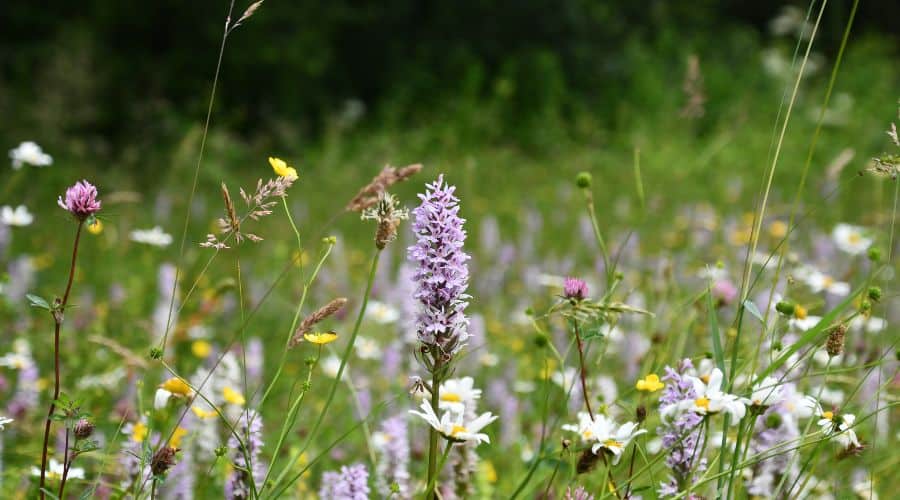 Read More

UKHab and NVC classifications require ecologists to be able to differentiate between many habitats which are often very similar. To correctly assign a habitat classification requires the ability to identify key indicator species. In this course, you will learn basic botanical skills that will allow you to use distinguishing characteristics and keys to identify a broad range of species. You should leave the course with the confidence to independently develop your botanical skills in the field.

By the end of the course, you will be able to: 

Identify the key characteristics of wildflowers and grasses that allow you to differentiate between species.
Recognise 10 commonly encountered wildflower families and know how to use keys to identify individual wildflower species.
Identify 5-10 common grasses that are indicators of habitat type.

Who Should Attend? – Nature enthusiasts, students, rangers, early career consultants and ecologists.

Knowledge Level – Beginner. Level descriptors can be found on the following web-page: Framework and Course Level Descriptors.

Prior Knowledge – No existing knowledge or experience is needed for this course, just a willingness to explore and learn. Some existing knowledge of botany would be useful, but not essential.

PLEASE NOTE: There is no accommodation, or meal facilities provided with this course. Refreshments (tea and coffee) will be available. If we are unable to reach viable numbers for this course, we will inform you of the course cancellation 4-5 weeks prior to the course run. We would recommend when purchasing accommodation and/or travel you should take out your own insurance.

Bookings will close if course capacity is reached. 

Please email [email protected] if you have any questions.
Example Timetable

Please arrive in time for the course to start promptly at 10:00am.
There will be a one-hour lunch break during the day. Lunch is not included so please bring your own food. Refreshments (tea and coffee) will be provided.
The course will finish at 17:00pm on the second day.
What's Included

The course has been carefully created by expert tutors and educators to help you build your knowledge and apply it within the field surrounded by like-minded individuals.

The course includes:

Classroom learning covering the theory of the species.
Field excursions to apply new knowledge.
Expert tuition for which the Field Studies Council is renowned.
Clear objectives and progression.
Refreshments (tea/coffee).

You can rest assured that the absolute best content from an expert in environmental education will be provided. In choosing a Field Studies Council course, you will be joining thousands of people who learn with us each year.
Bursaries and Subsidies

Student Discount

This course is eligible for a student discount. If you are a current student, please use discount code BioStudent20 at checkout for 20% off all Biodiversity courses.

Natural History Bursaries

There are a number of natural history bursaries available to help with the cost of your course. To find out if you and your chosen course are eligible, read more here.
Before You Attend

What to Bring

Notebook and pencil
Lunch and refreshments (tea/coffee will be available)
Sensible footwear and clothing for being outdoors
Small bag to carry personal items
A x10 Hand lens
Any identification guides you prefer to use (e.g. Rose or Streeter)

Recommended Field Studies Council Publications

There will be a member of staff with first aid training and access to a first aid kit on site. If you have special medical or access requirements, please let us know as soon as possible so we can plan the course.
Opportunities to attend this course
This course is not currently available to book. Dates will follow soon.
Sign up to our Email Newsletter
No current dates for this course? Click here to view all the upcoming Natural History courses. You can also contact us directly if you would like to enquire about making an on-demand booking.
Progress Your Learning
This is a training course from the Field Studies Council, delivered by expert tutors with an approachable learning style. After attending this course, you may like to progress your learning with further relevant courses or branch out into other areas of natural history. The Field Studies Council offers both online and in person courses, so you can choose the learning style that suits you best.
The course gives you the opportunity to immerse yourself in a new subject and acquire novel skills. Our online portal gives you time to study at your own pace and fit the lessons around your own schedule.
If you have any questions about our courses please check out our Frequently Asked Questions or email [email protected].
Group Bookings Made Easy
If you have a group of 10 or more individuals wanting to complete one of our courses, our team are available to discuss your options – from discounts to private team courses. Find out more!
You can rest assured that the absolute best content from an expert in environmental education will be at your fingertips. In choosing a Field Studies Council course, you will be joining thousands of people who learn with us each year.